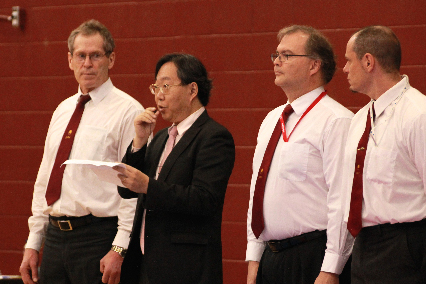 Message from Mr. Yoshiaki HATTA, Deputy Consul General of Japan at Montreal.
Mr. Jean-Pierre CUSSON, President of the Japan Karate Association Shotokan Karate-Do World Organization of Canada,
Honorable Membres de l'Association, Members of the Board,
Tout les Sensei de Dojo,
Les Participants de Championnat, Participants of the Championship, Distinguished guests, Honorables Invités, Ladies and gentlemen, Mesdames et Messieurs ;
Je suis très honoré et avec grand plaisir d'être parmi vous pour assister à l'ouverture de Championnat de Karate, Dans le cadre du 3ème Championnat Canadien de l'Association de Karate du Japon.
It is an great honor and also a great pleasure for me to be with you at the third JKA, Canadian National Championship.
I am very pleased to learn that the Karate in Canada already has its long history that, more than 40 years, or close to 50 years! And it covers all the Canada with 33 active Dojos.
Unfortunately I am not practicing Karate, but only little experience of Kendo long years ago. But, beside to improve physical conditions, train muscles, techniques, gain more speeds and powers, there was something more important taught from my father and still is, is the philosophy and mental side.
The Universal side of the DO is quite important, as I imagine your Sensei were, and yourselves also repeating those every day.
As you know, it is the part of the Japanese culture and all the approach with DO like Karate-DO, or Ju-DO, Ken-DO, etc. As BUDO, or even in cultural fields as Sa-DO, Ka-DO etc. have some similarities.

There are many aspects which are important about pursuit of DO, but I would like to emphasis two points,
One is, this is your own discipline and not to compare with others. Today's yourself should try to be better than yourself of yesterday, but not against others.
Second is, the respect with others and Senseis, elders. I am saying this, because this is quite fundamental to live together in this era of full of uncertainty and conflicts, throughout the communities or regions or even between the countries.
I know, it's easy to say and hard to practice, but I'm sure the people gathered today have practiced hard, and by checking yourselves each day, you can make most of the occasions like today's National Championship.
And what I've heard is this is the important step which could lead to another World Championship which will be held every 3 years.
Et à la fin, Je vous souhaitrais très bon Match, et championnat en poussant et depassant vos limites.
And, Hoping your very best to go beyond yourselves and best championship!!
Thank you/Merci beaucoup.