NEWS & UPCOMING EVENTS
Upcoming events
Latest news
Dojo Sakurai de Notre-Dame-du-Lac is active in their community! Check out the article in their community news on page 15! (French only)
Montreal JKA Fall Camp, November 4-5 with Shu Takahashi Sensei (7th Dan, JKA Brooklyn) and Douglas Luft (7th Dan, JKA Albany)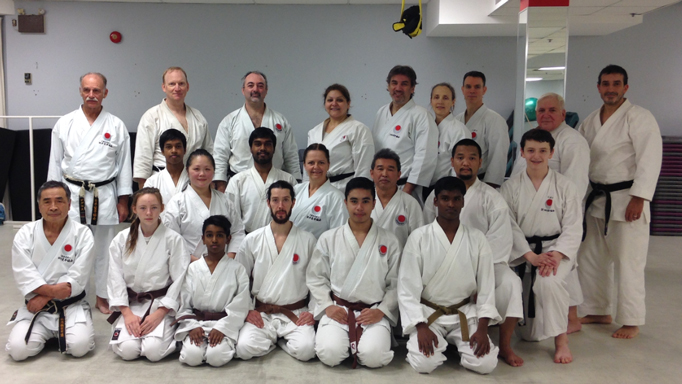 Congratulations to Canadian Competitors at the 10th South American Championship!
The 10th South American Championship was held in Santiago, Chile on September 3-4, 2016. Thirteen countries and about 450 contestants participated in this championship, with a special invitation to Canada, USA, Mexico and Panama. A total of 10 competitors represented Canada, 5 from JKA-SKD Canada: Manon Quirion, Richie Phok, Ariel Crisostomo, Andru Tecce and Andy Phok.
Here are the results of our member:
Andy Phok - placed first in both KATA and KUMITE in the 13 years male category;
Richie Phok - placed first in KATA and top 8 in KUMITE in 19-20 years male category;
Ariel Crisostomo - placed second in KATA in the 14 years male category;
Andru Tecce - placed fourth in KATA and top 8 in KUMITE in 14 years male category;
Manon Quirion - placed Top 16 in both KATA and KUMITE in adult female category.
Jean-Pierre Cusson who participated as Canadian coach was very proud of their performance and the experience that they gained.
Congratulations to all!
Photos from the event: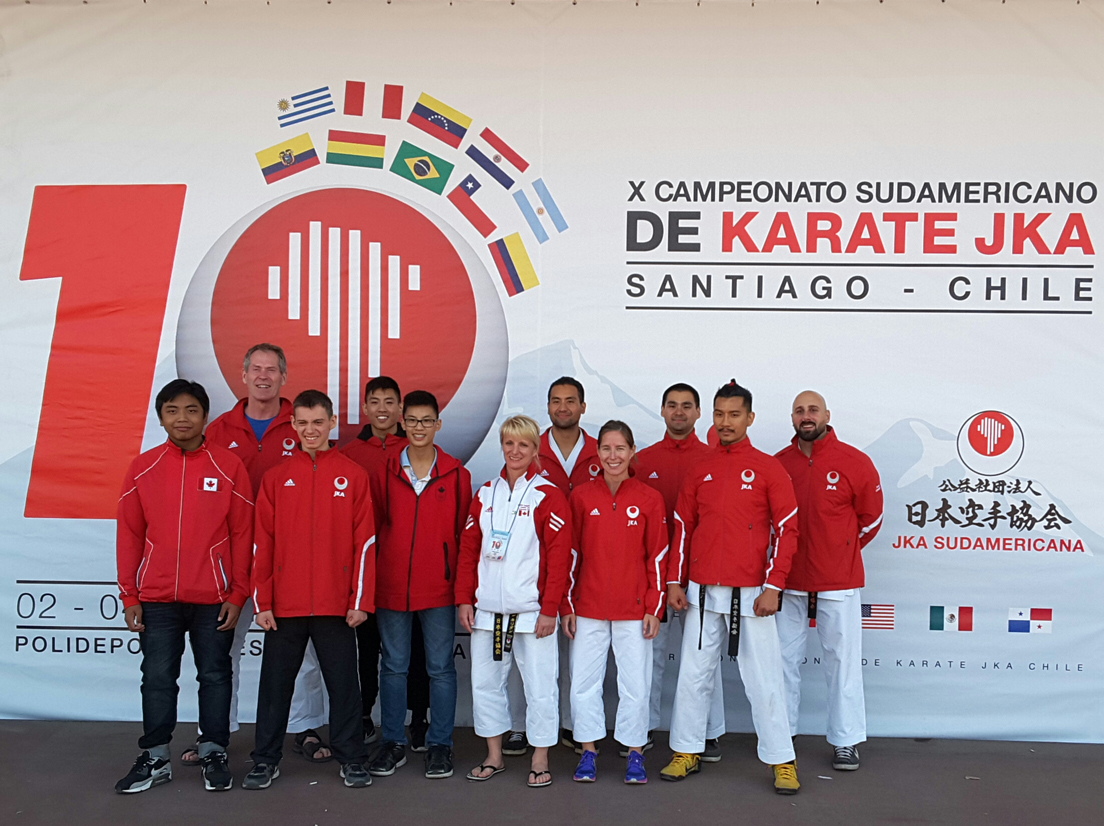 Canadian team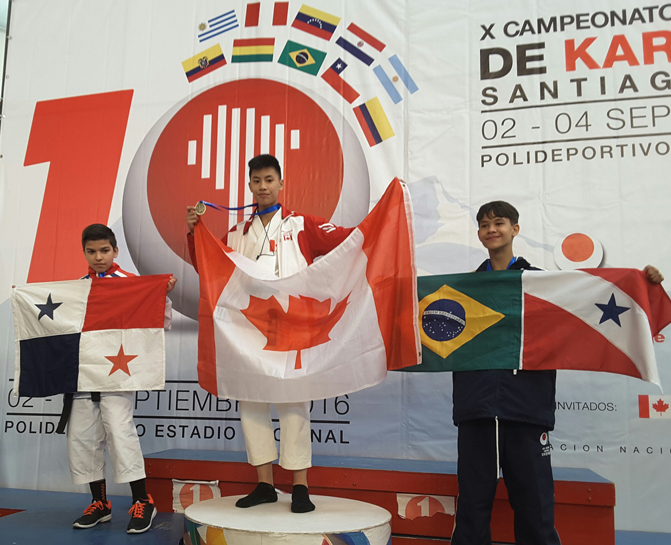 Andy Phok, first in Kata and Kumite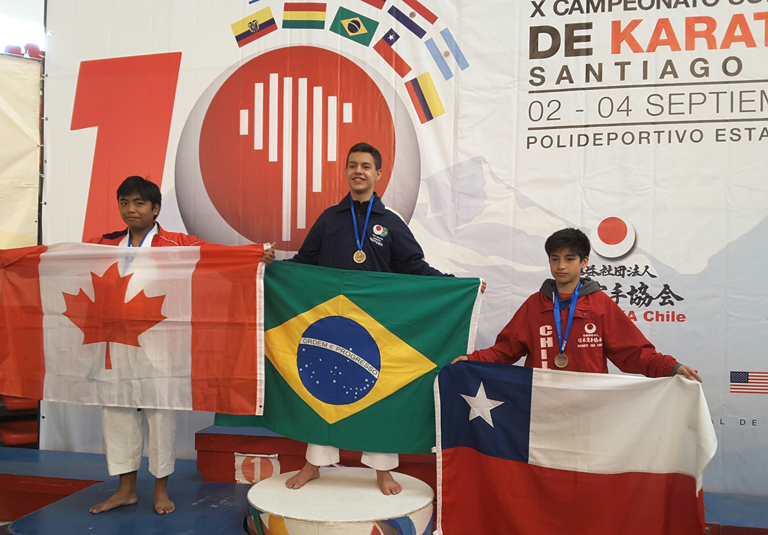 Ariel Crisotomo, second in Kata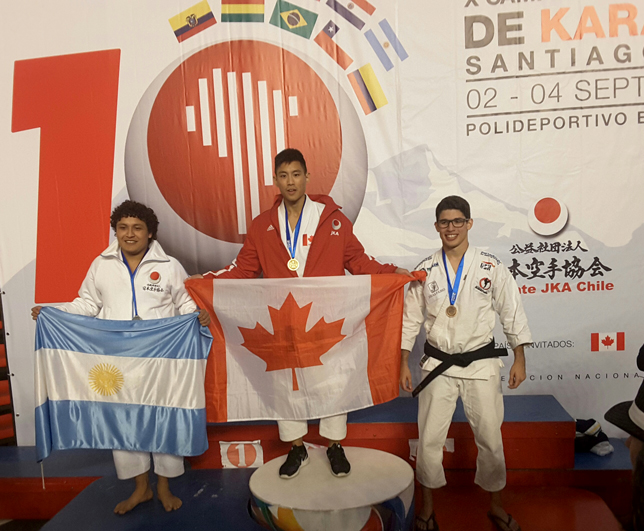 Richie Phok, first in Kata
2016 International GASHHUKU report
International GASSHUKU took place at JKA headquarter in Tokyo on April 14-17, 2016. Don Sharp, Shahrokh Hoghooghi, Angelo Massotti and Pierre Blier participated from JKA-SKD Canada. Congratulations to Pierre Blier who passed ROKUDAN (6th degree) at Dan examination on the last day of GASSHUKU. Don Sharp and Shahrokh Hoghooghi successfully renewed all of their qualifications as well as DAN examination rights.
"A fantastic camp as usual, lots of emphasis on KIHON, and judging, and the highlight of the camp was on BASSAI DAI, KANKU DAI with their BUNKAI, and one full hour of just TAIKYOKU SHODAN and how important this KIHON KATA is for creating a good stance as well as tuning points on the KATA. We also had a simulation tournament with Japanese university students to practice our judging skills. These students were really exciting!"
– Don, Shahrokh, Angelo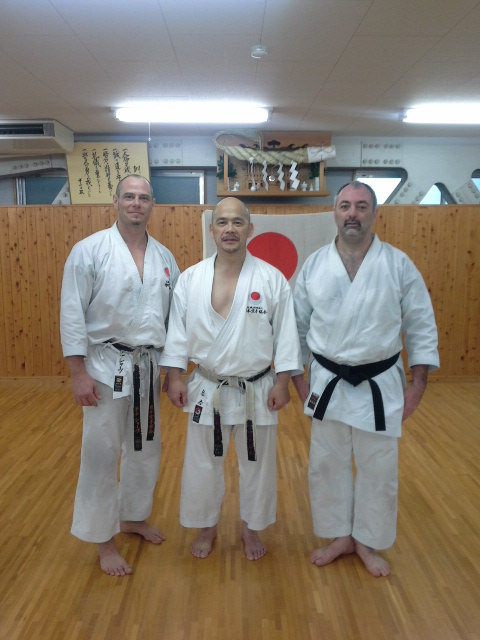 Don Sharp (LEFT) and Angelo Massotti (RIGHT) with Izumiya Sensei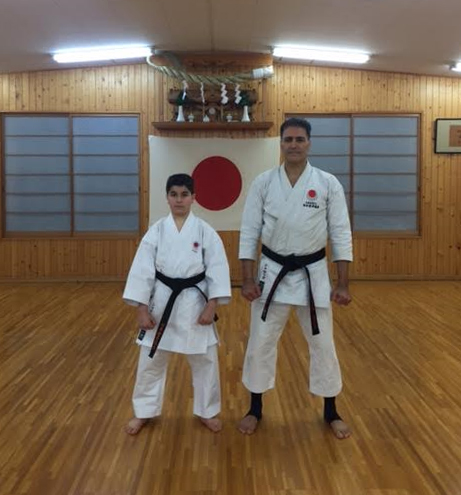 Shahrokh Hoghooghi (RIGHT) with his son, Shayan Hoghooghi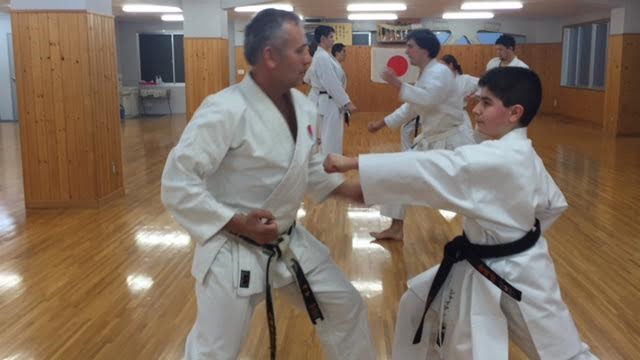 Shayan Hoghooghi in a pre-GASSHUKU class by Ueda Sensei and Okuma Sensei at JKA Headquater
Archived news
| | |
| --- | --- |
| Posted on: | News |
| Winter 2015 | Montreal Winter Karate Seminar-2016 |
| 2015/09/18 | Shidokan International Montreal Fall Camp |
| 2015/09/17 | Eastern Canada JKA Gasshuku 2015 |
| 2015/09/18 | The South American Championship by the South American JKA association. |
| 2015/06/29 | 1st Canadian JKA Shotokan Karate-Do Junior Championship, in Ottawa |
| 2015/05/17 | 3rd Canadian JKA National Championship, 2015 edition |
| 2013/08/19 | HUGE SUCCESS! - 2013 Canada International Summer Gasshuku |
| 2013/04/04 | Conrad Montanarini who was one of the first JKA Karate-ka in Québec passed away March 31st, 2013 at age 69. |
| 2012/13/12 | JKA International Gasshuku organized by JKA-SKD Canada in Summer 2013, in Montreal, QC |
| 2011/09/21 | The results of the 12th Gichin Funakoshi Cup World Karate-Do Championship 2011 |
| Fall 2011 | Mori Masataka Sensei's Promotion to 9th Dan |
Les Championnats Sud-Américains organisé par l'association JKA Sud-Américaine , Sao Paulo, Brésil.

"I had a wonderful time in Brazil, met some good people and ate some great food. It is always a learning experience weather competing in a regional up to international level. I was able qualify up to the semi finals in kata, and went up against a very tough Brazilian competitor in Kumite who won third place at the tournament.

This tournament will make me improve as much as the competitors I competed against. Competing in a international tournament let's us uncover the talent of different countries, which pushes ourself to restructure our technics.To quote Master Funakoshi 'the ultimate aim of karate lies not in victory nor defeat, but in the perfection of the character of it's participants.'

It was nice to be with Senseis Jean Pierre, Shahrokh and Manon, they were a great support to our team Canada. I discovered how important it is to have this support when competing in different countries, this is why it's important for our participation as a team." - Trevor Ishmael Sensei, Shotokan Karate Yamato Academy (Photo:2nd from left)


"La compétition s'est assez bien passée même si j'aurais aimé faire mieux. Je me suis classée pour les finales en KATA et KUMITE (top 8), ce qui est bien. Je fais partie de l'équipe Canadienne depuis 1994. C'est un privilège et une fierté bien méritée de représenter notre pays. Mon Sensei, Jean-Pierre Cusson a toujours été mon entraineur et coach depuis mes compétitions de haut niveau.

Plusieurs fois championne Canadienne, je ne les compte plus depuis plusieurs années! ... Je veux le remercier et toujours continuer à me surpasser à travers ses précieux conseils et entrainements, pour représenter le mieux possible notre pays." - Manon Quirion Sensei, Hakuro Dojo (Photo: 1st from left)